Magnetic Door Lock Installation & Repair
Magnetic door locks work best on glass doors in a commercial property. At DC Local Locksmith Experts, our commercial locksmiths can install these locks in either a "fail-safe" or "fail-secure" mode so that in case of a power outage, the locks will either remain locked or all unlocked. We will let you know which option is best for the doors in your business.
Professional Commercial Locksmith in DC For Magnetic Door Locks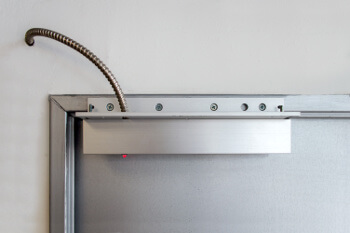 magnetic door locks At DC Local Locksmith Experts, our local DC commercial locksmiths excel at installing and repairing magnetic door locks for businesses.
We are a local company that services Washington, DC and the surrounding areas.
We understand the need for security for your business and we have made it our goal to provide you with the security you require. You can rely on us for all of your commercial door repair and door installation needs.
We install and repair all types of commercial door and lock.
We pride ourselves on providing dependable, professional service 24/7. By providing you with complete locksmith services in Washington DC, we will create a sense of security and importance should the unthinkable happen and you find yourself locked out of your business in Washington, DC.
When you look for Magnetic Lock installation in washington DC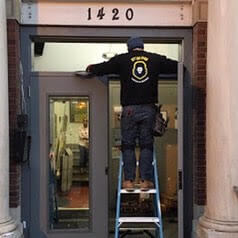 One of our many specialties are magnetic locks that are installed on your door frames within your office building. These strong magnets will keep a door and lock secured while allowing easy access into and out of a room.
We're bonded and insured with 5+ years of experience to install magnetic locks on commercial doors.
We offer competitive and upfront pricing combined with expert technicians who expediently provide door installation and door repair services.
We have become known for being a premiere company through our commitment to excellence, but most importantly, by making each customer we serve our number one priority.
Automatically Latching Doors
If you are in Washington DC or the surrounding area, Our experts can replace your conventional interior door locks with up-to-date magnetic door locks. Once installation has begun, our technician will not leave the site until installation is complete and you are comfortable with accessing your offices.
Installation of magnetic locks allows for easy access into and out of any room in your establishment that requires security with ease of access. Magnetic door locks eliminate the problem of constantly checking behind yourself to be sure your door is closed.
Magnetic door locks prevent customers,or non-employees from walking by your office and seeing customer files or other sensitive information.
We provide a multitude of commercial magnetic lock services to offices, banks, supermarkets, government buildings, malls, or any other type of commercial establishment imaginable.
Never again will you need to be concerned with the security of your information, all because you mistakenly thought you pulled your door and lock closed and the mechanism failed.
Commercial Door and Lock Services
We are known in Washington DC and surrounding areas business owners for being fast and friendly locksmiths. No matter what you require, DC Local Locksmith Experts have the qualified techs you need to get the job done and your business back on track.
If you were to be locked out of your business, it would cost you time and money.
We provide fully mobile locksmiths who are bonded and insured, and are on-call 24/7 to install and repair your magnetic locks.
Our mobile service guarantees a 30 minute response time because your time is important to us. We will provide you with upfront pricing prior to any door and lock installation or door repair work.
Professional, Honest, Dependable – The Leading DC Locksmith Service
Washington DC Local Locksmith Experts is known for providing excellent, complete door and lock service in the District of Columbia. Our fast and friendly staff are highly trained with 5+ years' experience and are available to you 24 hours a day, 7 days a week.
We are always striving for excellence and keep our technicians trained with the latest business security solutions.
Our friendly demeanor and upfront pricing will make the installation of your magnetic door locks a pleasant experience.
Our professional technicians are extremely dependable, providing excellent service with honesty and integrity while helping you to maintain a sense of security when it comes to your door and lock. Allow DC Local Locksmith Experts to provide you with the business security you require and add you to our list of satisfied customers.
How do magnetic door locks work?
When your door closes, it activates a magnetic switch that relays the signal to your security system. When the signal is sent and received, our technicians are notified via text message or e-mail and will immediately respond with thorough service. During your next opening hours, you won't have to worry about being locked out of the building by someone who is attempting to steal your information. All of our mobile technicians are bonded, insured and drug-tested for your safety.
Is installation easy?
If you have an existing locking mechanism on the door frame, we can easily install a magnetic lock without replacing it. We often use this solution because it is easier and less expensive than complete removal of all existing locks and the installation of new magnetic locks. If your door has a faulty mechanism then our technician will be able to repair it once he arrives at your establishment. Our technicians are known for being fast and friendly, so you won't have to wait long for service.
What kinds of commercial magnetic locks are available?
We offer several different types of commercial magnetic locks so you can choose what best fits your needs. The most popular are the AC powered locks. They have a nice appearance and work well in locations where there is a lot of traffic from customers or other non-employees, such as shopping malls, retail stores, banks, government buildings, basement, etc.

How do you remove a magnetic door lock?
We can remove your existing magnetic door lock and replace it with a new one. Removal and installation of the commercial magnetic locks is never difficult for DC Local Locksmith Experts. We are known for our fast response time because we know how important time is to your business.
What are some uses for commercial magnetic door locks?
There are many different uses for commercial magnetic door locks. They can be used in many different industries such as retail stores, government buildings, schools and universities, shopping malls, libraries, hotels and conference facilities. They are also commonly used on the doors of vending machines and freezers to prevent access when there is no one present at the location.

Are commercial magnetic door locks expansive?
Commercial grade magnetic locks are extremely affordable. They are very popular in retail stores and other locations where a lot of people with varying levels of security access will be present. We provide upfront pricing so you have no surprises when you receive your bill.
How much does it cost to fix a door lock?
Our services begin at $90 and above, depending on your needs. We provide same day service calls so you can be sure that you won't be waiting for a long time before we arrive to fix your commercial locks. In most cases, we're able to replace the lock and have it working again in under 30 minutes.
Can a magnetic door lock be repaired?
Yes, we can repair a commercial door magnet for you. Our technicians are highly trained and are able to fix any problem that may arise with your existing commercial lock and can also provide door repair.
Is it necessary to hire a professional?
Many people try to handle the replacement of their locks on their own but doing this can actually result in more problems than there were to begin with. Our technicians are professionals who know exactly how to get your locks working correctly again, no matter what type of problems you may be having.
What do you do if your storm door lock repair is jammed?
If your lock is jammed, give us a call and we can send one of our technicians to you as soon as possible.
Your door magnet may be broken or have malfunctioned and because it will no longer turn freely in the cylinder, your door won't open properly.
We're adept at fixing this problem quickly and easily so you can get back to your day without any more worries.
If you are in need of a commercial door lock installation or repair, look no further than Washington DC Local Locksmith Experts.
We provide upfront pricing and installation so that your locks will work as they should without costing any more than the estimate we gave you up front. If your door magnet is jammed then give us a call immediately – our technicians can fix it quickly and easily!
Contact us today for all of your sliding glass door installation washington dc needs!
We have team members located in st nw washington dc and on nw washington dc available for service call 7 days a week providing door and lock repair, door installation, front door repair and replacement, glass door repair and installation.
If it's an emergency don't hesitate