DC Access Control Installation
Are you looking for reliable access control installation services in DC? Contact DC Local Locksmith for expert advice and affordable installation services.
Access Control Systems DC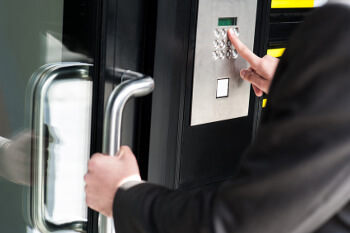 There was a time when a security system for a business consisted simply of a key and a lock but for many companies; those days are long gone. Many businesses use a local DC commercial locksmith to install and repair security systems, such as CCTV systems. One of the most popular requests we receive is for access control systems. These systems can come in many forms, from complete systems spanning a building to individual components, ranging from numeric keypads to magnetic cards. Whatever access control system you select for your business, you want to know that you've selected a vendor that can install and repair these systems, is bonded and insured and employs expert technicians that provide quick service at affordable prices.
Access control systems are an essential part of any commercial building's security. They allow business owners to control who can enter the building, which rooms or areas they can access, and when they can do so. DC Local Locksmith is a professional locksmith company based in Washington, DC that specializes in access control installation for commercial buildings. With over ten years of experience, DC Local Locksmith offers reliable and affordable access control services to businesses in the DC area.
Little-known fact: Access control systems can be integrated with other security systems to create a more comprehensive security solution. For example, access control systems can be linked to video surveillance cameras to monitor who enters and exits the building.
Access control systems can also track employee attendance and time management. Access control systems allow you to track when employees enter and exit the building easily and which rooms or areas they access during their shifts.
Your Community and Access Control Systems in Washington DC
The many federal agencies with offices in Washington DC and surrounding areas have security OurOur place to protect their work. If your business needs a new access control system or if you need to repair existing access control systems, call DC Local Locksmith Experts. As our name indicates, we are a complete locksmith service in Washington DC, and surrounding areas. Our technicians have at least five years of experience, and our fast and friendly staff will help you resolve your security needs quickly. Effi access control systems have several components, including card readers, keypads, biometric scanners, and electric locks. These components work together to control access to your commercial building. Card readers and keypads are the most common components of an access control system, allowing employees to enter the building by swiping a card or entering a code. Biometric scanners are becoming more popular, allowing employees to use their fingerprints or facial recognition to gain access.
Several types of access control systems are available, including standalone, networked, and cloud-based systems. Standalone systems are ideal for small businesses with only one or two entry points. In contrast, networked and cloud-based systems are better suited for larger businesses with multiple entry points and locations.
Choosing the right access control system for your commercial building can be daunting. That's why DC Local Locksmith offers expert advice on choosing the right system for your business. By considering factors such as the size of your building, the number of entry points, and the level of security required, DC Local Locksmith can help you choose the best access control system for your business.
When choosing an access control system for your commercial building, it's important to choose a scalable and flexible system. Your business may grow and change over time, and you want an access control system that can adapt to those changes. By choosing a scalable and flexible system, you can avoid costly upgrades in the future.
DC Local Locksmith has a proven track record of providing high-quality access control installation services to businesses in the DC area. With a team of experienced professionals and state-of-the-art equipment, DC Local Locksmith can ensure your access control system is installed correctly and reliably.
Your Commercial Access Control Systems installer DC
Some locksmith services will provide a quoted price for work, going to great pains to point out that the quote is free. After completing a job, they more than makeup for such generosity by providing customers with an inflated bill far exceeding the original quote. At DC Local Locksmith Experts, our upfront pricing policy means that our original price is the price you will pay.
Moreover, other locksmith companies keep 9-5 hours or if30-minu30-minutes an emergency service, but they never seem to be around when trouble happens. Or if you can reach them, they want you to drop the problem off at their office. DC Local Locksmith Experts, on the other hand, offers 24-hour locksmith service in DC with mobile locksmiths and a 30-minute response time to resolve your issues with the minimum amount of inconvenience to you.
There are several reasons why installing an access control system in your building makes a lot of sense. You may have felt secure for years with a lock and key system. But how many employees or contractors have misplaced or lost keys? How much time and expense has been spent replacing them? And simply replacing keys does nothing for business, employee, or visitor safety. Those missing keys could have been "fohe wrong person! You can circumvent this by replacing locks. But replacing locks throughout an entire building, again and again, can prove very expensive. And if employees decide to save time by leaving doors unlocked or propped open, your building's security efforts are moot. Access control systems are an excellent option for businesses that must keep certain areas or rooms private, restricted only to certain employees.
Access Control Feature Options
The benefits of installing access control systems for your business are many. Instead of trying their many keys in many hands, access into and throughout the building is regulated by electronic locks. If access cards are lost or stolen, the chips can easily be reprogrammed to refuse further building access. Likewise, if an employee is terminated and does not relinquish their card, the card can be reprogrammed to deny access. And not all employees may be permitted access to all parts of a building. An access control system can effectively keep all employees where they're supposed to be. Systems can be customized to fit various businesses and generally fit within the standalone (stripe and PIN code activated)—PC controlled (the system is directly controlled from office computers) options.
Services Offered by DC Local Locksmith
Installation of access control systems for commercial buildings: Our team of experienced professionals can help you choose the right access control system for your business and install it correctly to ensure maximum security.

Repair and maintenance services for access control systems: We offer repair and maintenance services for all types of access control systems, ensuring that your system is always in top working condition.

Emergency access control services available 24/7: We understand that emergencies can happen anytime, so we offer emergency access control services 24/7.
Take advantage of DC Local Locksmith Experts' complete locksmith service, which includes upfront pricing, 24/7 locksmith service for all your security needs, and experienced technicians who can install and repair access control systems quickly and professionally. Call us today, and let us help you make your dreams for an access control system in your building a reality.
If you need access control installation services for your commercial building, look no further than DC Local Locksmith. With our reliable and affordable services, you can rest assured that your business is secure. Contact us today to schedule a consultation and see how we can help you.
If it's an emergency don't hesitate