Panic Bar and Exit Device Installation in DC: Commercial Door Hardware for Your Maryland Establishment – Locksmith Services for Exit Door, Push Bar, and Panic Hardware
A Panic Bar, also known as a crash bar or Push Bar, is a vital commercial lock and hardware feature designed to swiftly open the door in emergency situations. This specialized metal bar is affixed horizontally to the interior side of a door, offering an efficient method to exit quickly from a building. Panic bars are key elements in enhancing safety and compliance with building codes, especially in public and commercial settings.
As a matter of fact, they are often a requirement in various jurisdictions, including D.C., Silver Spring, Bethesda, Potomac, and beyond. This hardware for commercial applications plays a crucial role in maintaining security and adherence to code requirements within commercial buildings and public spaces.
When triggered, a panic bar instantly releases the locking mechanism, allowing occupants to exit the premises without delay. This mechanism is concealed within the door's hardware, ensuring a clean and unobtrusive appearance. Panic bars are leveraged for their effectiveness in emergency scenarios, reducing the risk of bottlenecks and facilitating a swift and orderly evacuation.
These devices are not only designed to meet safety standards but also offer options for customization. From keyless systems to electromagnetic locks, panic bars cater to a range of security preferences. Moreover, they can be integrated with on-site alarms or deadbolts for an added layer of protection against unauthorized access or potential burglary attempts.
Panic bars are also instrumental in simplifying rekeying processes when necessary, ensuring an efficient response to security changes. In addition to their significance in ensuring building safety, panic bars contribute to code compliance, making them indispensable components in commercial and public building structures.
Whether in bustling commercial districts or public buildings, panic bars stand as a foundational aspect of secure architecture. Their introduction since inception has revolutionized the way we approach building security, addressing the need for rapid exits while maintaining stringent safety measures.
Commercial Door Hardware Repair in Baltimore: Expert Solutions for Exit Devices and Panic Bars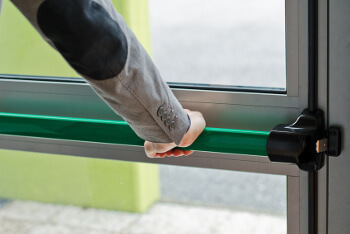 Regarding your security needs, DC Local Locksmith Experts have you covered. Our comprehensive locksmith services encompass everything from panic bar installation and door lock repair to locksmith and door solutions. We take pride in being a local, swift, and amiable service provider. What sets us apart is our commitment to transparent dealings – our upfront pricing ensures no unexpected surprises on your bill. Our team of proficient technicians brings over 5 years of experience to the table, specializing in panic bar installation, repair, and an array of other locksmith services. With their expertise backed by our esteemed reputation, you can rest assured that each dispatched technician represents professionalism and courtesy.
The significance of choosing a local locksmith cannot be overstated. In your pursuit of a locksmith in Washington, DC, and the surrounding area, it's crucial to identify a provider capable of not just door and lock services, but also proficient in panic bar installation and repair. Moreover, the availability of 24-hour locksmith service, combined with a complete range of locksmith solutions. Our locksmiths possess an intricate understanding of the region, and appreciate the the level of professionalism you anticipate. Suppose the goal is to enhance your business security through panic bar installation. In that case, your best choice is undoubtedly the genuine local locksmith, DC Local Locksmith Experts, catering to the DC, MD, and VA areas around the clock.
As a dedicated commercial locksmith, we offer mobile locksmith services that encompass a wide spectrum of needs – ranging from panic bars to change-outs, we have you covered. Our round-the-clock, 24/7 locksmith services stand as a shield, ensuring your business remains safeguarded at all times. With locksmiths who boast an impressive and are experts in full mobile locksmith services throughout DC, you can trust us to provide top-tier assistance, both inside and outside of the door.
Exploring the Benefits of a Panic Bar: The Role of Push Bars and Door Push Bars in Enhancing Security
Introducing panic bars since the inception of modern security systems. It emerged as indispensable components, especially in commercial spaces to avoid theft invasion, and other  security purposes. These ingenious devices, also known as push bars or crash bars, play a pivotal role in ensuring the safety and security of occupants. In this article, we delve into the multifaceted advantages of panic bars, shedding light on their significance in fortifying security measures.
Enhanced Security Through Quick Access
Panic bars are primarily designed to facilitate swift and efficient exits during emergencies. Their strategic placement near exits allows the door to be opened with minimal effort, even in high-stress situations. The ability to exit without fumbling for locks or handles can be crucial in preventing chaos during a crisis.
Compliance and Accessibility
For businesses, adhering to safety regulations is of paramount importance. Many jurisdictions, including Baltimore, emphasize the need for panic bars to ensure compliance with building safety codes. In fact, panic bars have been in use for quite some time, with their origins tracing back to the early 20th century. Their enduring presence and consistent usage underscore their effectiveness and relevance in modern security setups.
24-Hour Protection
Emergencies don't adhere to schedules, and that's where panic bars truly shine. Offering 24-hour protection, these devices are always ready to serve, regardless of the time of day. This assurance is particularly crucial for businesses that operate around the clock or for institutions where occupants might need to exit swiftly at any given moment.
The mechanics of panic bars are ingeniously simple, yet highly effective. A horizontal bar is attached to the inside of the door, typically spanning its width. When pressure is applied, the latch is released, allowing the door to swing open. This mechanism works seamlessly in collaboration with various door services, making it an ideal security accessory for businesses of all sizes.
Long-Term Reliability and Repairs
Many manufacturers take pride in the longevity of their panic bars. With proper maintenance and occasional repair, these devices can provide reliable service for years. In Baltimore, repair services are readily available, ensuring that panic bars remain in optimal working condition. This local support is essential for businesses aiming to uphold the highest security standards.
A Secure Future with Panic Bars
In a world where security is a top priority, panic bars are steadfast allies in safeguarding occupants and assets. Their simple yet effective design, seamless integration with doors, compliance with regulations, and round-the-clock accessibility make them an invaluable addition to any commercial space. As Baltimore and other areas continue to recognize their importance, panic bars will continue to play a pivotal role in enhancing security and allowing doors to open not just physically, but also to a safer and more secure future.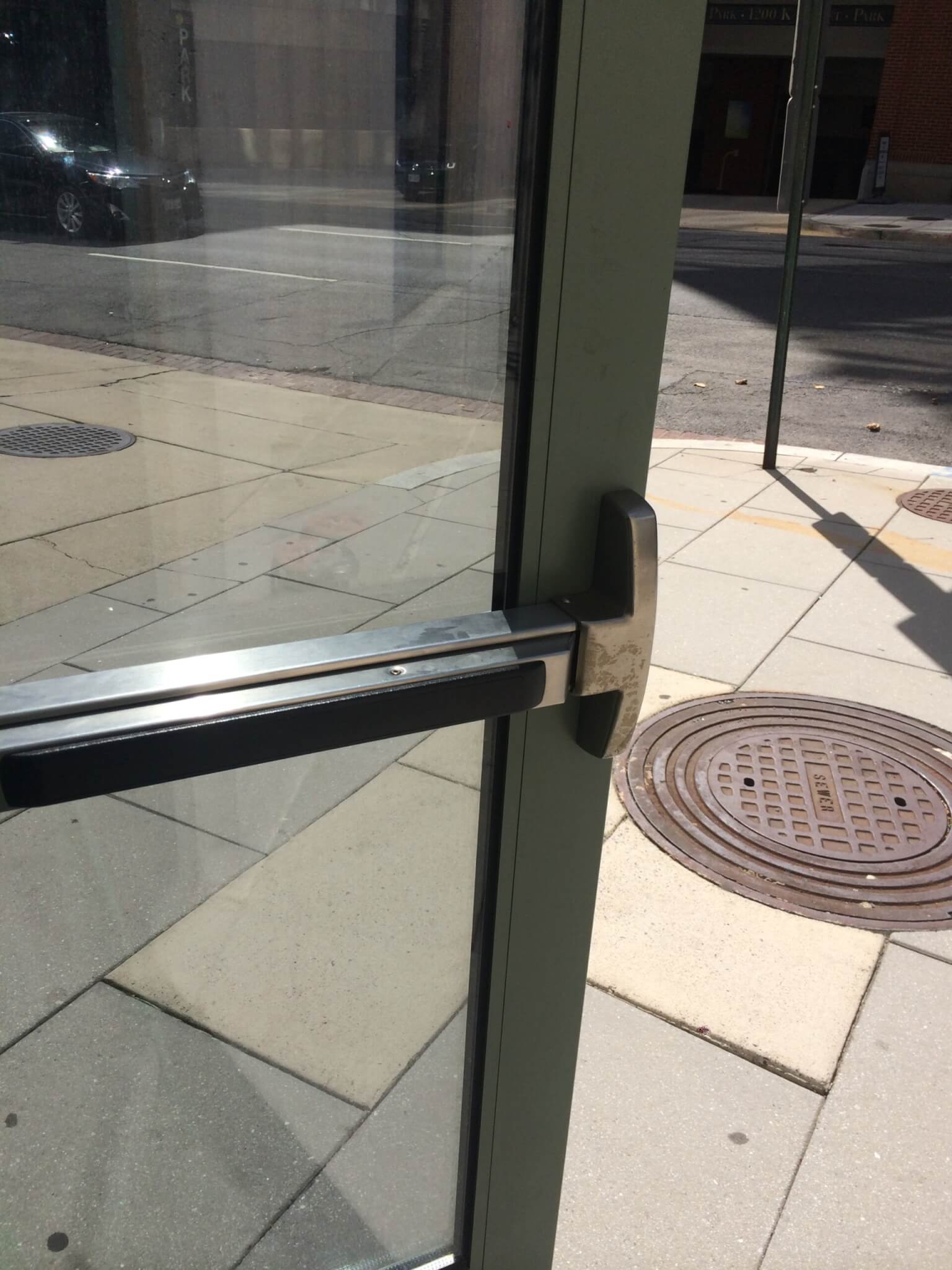 Efficient Exit Door and Fire Door Solutions: Contact Us for Expert Hardware Repair in Baltimore
Call or contact DC Local Locksmith Experts today to find out what we can do to make your business more secure. We are local, and all of our technicians are highly trained with 5+ years of experience in the field Plus they meet our high standards of professional service. Our bonded and insured expert technicians can provide 24/7 locksmith service with our complete locksmith service and upfront pricing – your home or business is equipped, can be assured that your panic bars and all your other locksmith needs are taken care of the way you would do business yourself without wasting time and money.
DC Local Locksmith is your trusted locksmith company in Washington, DC.
FAQ1: What types of residential repairs do you offer in Baltimore?
We provide a wide range of residential, installing, and repairing Baltimore services, including plumbing, electrical, HVAC, and general home maintenance.
FAQ2: How experienced are your technicians in residential repairs?
Our technicians have extensive experience in residential repairs, with specialized training in various areas to ensure high-quality and efficient service.
FAQ3: Can you handle emergency residential repairs in Baltimore?
Yes, we offer 24/7 emergency repair services for residential properties in Baltimore. Our team is ready to assist you, day or night.
FAQ4: What is the typical response time for residential repair requests in Baltimore? 
Our aim is to provide high-security and peace of mind. Our average response time for residential repairs in Baltimore is 24 hours, ensuring your issues are addressed quickly.
FAQ5: How do I schedule a residential repair service in Baltimore?
Scheduling a repair service is easy, 24/7 to book a service appointment for your residential property in Baltimore residential use.
If it's an emergency don't hesitate